Home
Click Here for Links
Ten Commandments Listed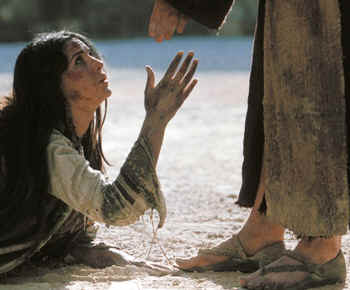 Seventh Commandment and Adultery
Biblical View of Adultery
John 8:3-11
3 And the scribes and Pharisees brought unto him a woman taken in adultery; and when they had set her in the midst,
4 They say unto him, Master, this woman was taken in adultery, in the very act.
5 Now Moses in the law commanded us, that such should be stoned: but what sayest thou?
6 This they said, tempting him, that they might have to accuse him. But Jesus stooped down, and with his finger wrote on the ground, as though he heard them not.
7 So when they continued asking him, he lifted up himself, and said unto them, He that is without sin among you, let him first cast a stone at her.
8 And again he stooped down, and wrote on the ground.
9 And they which heard it, being convicted by their own conscience, went out one by one, beginning at the eldest, even unto the last: and Jesus was left alone, and the woman standing in the midst.
10 When Jesus had lifted up himself, and saw none but the woman, he said unto her, Woman, where are those thine accusers? hath no man condemned thee?
11 She said, No man, Lord. And Jesus said unto her, Neither do I condemn thee: go, and sin no more.
The Bible Says about Adultery
Jesus Christ, in His Sermon on the Mount, stated that adultery was far more than merely an illicit sexual encounter, but was a heart matter. "You have heard that it was said, 'You shall not commit adultery;'but I say to you, that everyone who looks on a woman to lust for her has committed adultery with her already in his heart" (Matt. 5:27-28). Paul lists "adulterers" right along with drunkards, homosexuals, swindlers and fornicators as being those who "shall not inherit the kingdom of God" (1 Cor. 6:9-10). Adultery is a very serious matter, and, unless repented of, a deadly matter.
We are living in an age where sin is portrayed as a mere illness of the body or mind; when sin is denied or laughed off, when sin is rationalized as merely doing one's own thing, or doing what comes naturally. But a belief in the Holy God and respect for the authority of his word demands that adultery be recognized and acknowledged for what it is . . . sin.
The seriousness of the sin of adultery can be seen in several ways. Under the law of Moses the penalty was death by stoning. Deuteronomy 22:21, Then they shall bring out the damsel to the door of her father's house, and the men of her city shall stone her with stones that she die: because she hath wrought folly in Israel, to play the whore in her father's house: so shalt thou put evil away from among you."
Again, the only ground that God gave for divorcing one's mate was sexual immorality. He said, "Whosoever shall put away his wife, saving for the cause of fornication, causeth her to commit adultery. And whosoever marry her that is divorced, committeth adultery" Matthew 5:32. But the seriousness of adultery is seen most clearly in the eternal punishment of those who commit the sin. An impenitent adulterer cannot go to heaven. Ephesians 5:5 says: " "No whoremonger, no unclean person hath an inheritance in the Kingdom of Christ and of God." And in Colossians 3:6, we are told that because fornication, uncleanness, and inordinate affection, the wrath of God comes on the children of disobedience.