Home
Christian Bumper Stickers
Vacation Bible School T-Shirts
Why Display
the Bible Ten
Commandments?
What Does the Bible Say about the Ten Commandments?
View the Guest Book
Covenant Book
Citizens Against Drunk Driving
Christian Discount Long Distance Phone Service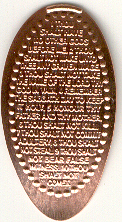 All Ten Commandments molded onto a single penny! A unique gift idea for kids. These are 2 for $1. Shipping and handling is $1 per 20 coins ordered. Send us an e-mail at

or call 256-523-6425.

Kids Ten Commandments on a Penny. A special gift that will delight any child.





Ten Commandments Heritage Advertising
Heritage Advertising, Inc.
4100 Bob Wallace Avenue SW
Huntsville, AL 35805
256-523-6425
Email:

Kids Ten Commandments
1. Have no other gods.
2. Have no idols.
3. Honor God's name.
4. Honor the Sabbath day.
5. Honor your parents.
6. Do not murder.
7. Do not commit adultery.
8. Do not steal.
9. Do not perjure yourself.
10. Do not covet.
Ten Commandments of the Bible, Copy of Childs
Deuteronomy 6:2-3
2 That thou mightest fear the LORD thy God, to keep all his statutes and his commandments, which I command thee, thou, and thy son, and thy son's son, all the days of thy life; and that thy days may be prolonged.
3 Hear therefore, O Israel, and observe to do it; that it may be well with thee, and that ye may increase mightily, as the LORD God of thy fathers hath promised thee, in the land that floweth with milk and honey.


Requirement to teach children.

Deuteronomy 6:7
7 And thou shalt teach them diligently unto thy children, and shalt talk of them when thou sittest in thine house, and when thou walkest by the way, and when thou liest down, and when thou risest up.
Deuteronomy 5:10
And shewing mercy unto thousands of them that love me and keep my commandments.
Deuteronomy 5:29
O that there were such an heart in them, that they would fear me, and keep all my commandments always, that it might be well with them, and with their children for ever!
Leviticus 26:14
But if ye will not hearken unto me, and will not do all these commandments;
Leviticus 26:15
And if ye shall despise my statutes, or if your soul abhor my judgments, so that ye will not do all my commandments, but that ye break my covenant:
Leviticus 27:34
These are the commandments, which the LORD commanded Moses for the children of Israel in mount Sinai.
Exodus 16:28
And the LORD said unto Moses, How long refuse ye to keep my commandments and my laws?
Exodus 20:6
And shewing mercy unto thousands of them that love me, and keep my commandments.