Home
Vacation Bible School T-Shirts
Why Display
the Bible Ten
Commandments?
What Does the Bible Say about the Ten Commandments?
View the Guest Book
Covenant Book
Citizens Against Drunk Driving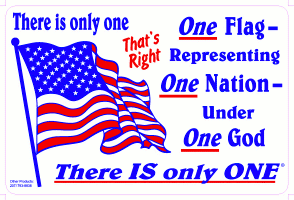 American Patriotic Yard Signs
Make a statement and take a stand for our great country and the flag that is flown for freedom. Get a bumper sticker, either magnetic or stick-on. Or you can get a larger one if you have a truck, an SUV or a van with more space. And if you are really courageous or bold and want to make a strong stand within your community you can get a yard sign.

We need to get back to our foundations and remember our heritage. Today people are interested in their family heritage and knowing where they came from. Well, for us this country is part of our heritage. We must stand up for what this country stands for and was founded upon. We went through a "great civil war," to quote President Lincoln, which would have divided this nation. However, it was strong enough to withstand that and remains the United States of America. The flag that is flown by many is a banner that symbolizes freedoms and that this is a united country. We are one nation that has one flag, and our founding fathers followed the statutes of one God.

We are again at the crossroads of a different kind of civil war that is trying to divide our great, united nation. Let's look for the things that will and can unite us as a people rather than divide us.

Just as Abraham alone petitioned God to spare His judgment on a city, the few of us Christians can seek God to deliver this country from the disaster that is looming on the horizon if we, the people of this country, don't change our ways. Look at, read, and meditate on II Chronicles 7:14. That's us, Christians! It will not be by the legal system set up by man with all kinds of laws that are not adhered to and followed. It will be "by my Spirit, saith the Lord of hosts."

We need to keep God in our documents, declarations, and lives. That means to keep prayer in the House and Senate when they begin, keep the Ten Commandments in our courts, keep the word "God" to be allowed to be used even in legal and political situations. After all, we do not name Him as the other religions do. They want to worship and talk about Buddha or Mohammad or whatever their god's name is. Yet we can't even mention the word "God."

If you are more patriotic than Godly, you can still display a sign to make a statement and take a stand to support this great nation and the banner that we fly. Show your patriotism and get a sign, make a statement, and take a stand showing that "there is only one."
To order please call 256-523-6425, ask about quantity discounts

American Patriotic T-Shirts

Patriotism is a love and devotion to one's country. It has had different meanings over time and its meaning is highly dependent upon context, geography, and philosophy. It is a related sentiment to nationalism, but nationalism is not necessarily an inherent part of patriotism. Display our national colors with a patriotic t-shirt.

Patriotic T-Shirts
Bumper sticker, 3"x11.5", magnetic ($5.00) or stick-on ($2.00)

Vehicle sign, 12"x18", magnetic ($15.00) or stick-on ($5.00)
Choice of white or blue

Yard sign, 18"x24", white on one side, blue on the other - comes with wire stand ($12.00)
---
Durable polycoat signs - a material similar to cardboard milk cartons. Wire stands included. Signs are 2 sided. Size of sign is 16"x26". Minimum order for any patriotic yard sign is 2.

Currently out of stock. To interest or special order call 256-523-6425
.

Shipping is $.40 per sign; handling is $4.00 per order. Example, the total shipping and handling for one sign is $4.40, for two signs it is $4.80, etc. Free shipping for orders of 50 or more.

"Support our Troops" Signs
2-5 signs
$
10-24
$
25-49
$
50-99
$
100-249
$
250-499
$
500+
$
---
Patriotic yard signs are now available! Show your patriotism by placing this sign in your yard. Take pride in your country by displaying our national motto "In God We Trust." Also available are God bless America yard signs. Both signs picture an American flag on the sign in addition to the text. Both yard signs are made out of high quality chloroplast plastic and, will withstand weather. We gaurantee these signs to last 3 years. The signs are printed on both sides of the sign. Wire stands are included. Prices are shown in the table below. Minimum order for any patriotic yard sign is 2.

Shipping is $.40 per sign; handling is $4.00 per order. Example, the total shipping and handling for one sign is $4.40, for two signs it is $4.80, etc.Currently out of stock. To order call: 256-523-6425

We are currently out of stock. If you would like to order a large quantity of church or campaign signs (50 or more), call 256-523-6425
and we will make them for you. See campaign signs for prices.

Prices for "In God We Trust" & "God Bless America" Signs
Quantity
2-sided Signs
2-9 Signs
$ each
10 or More Signs
$ each
Wire stands are included in these prices.
The law is fulfilled by love.
Galatians 5:14
For all the law is fulfilled in one word, even in this; Thou shalt love thy neighbour as thyself.
Genesis 26:5
Because that Abraham obeyed my voice, and kept my charge, my commandments, my statutes, and my laws.
Exodus 16:28
And the LORD said unto Moses, How long refuse ye to keep my commandments and my laws?
Exodus 24:12
And the LORD said unto Moses, Come up to me into the mount, and be there: and I will give thee tables of stone, and a law, and commandments which I have written; that thou mayest teach them.
Covenant
Exodus 20:6
And shewing mercy unto thousands of them that love me, and keep my commandments.
Psalm 11
1 In the Lord I have put my trust: how will ye say to my soul, Flee to the mountains as a sparrow? 2 For behold the sinners have bent their [bow], they have prepared their arrows for the quiver, to shoot privily at the upright in heart. 3 For they have pulled down what thou didst frame, but what has the righteous done? 4 The Lord is in his holy temple, as for the Lord, his throne is in heaven: his eyes look upon the poor, his eyelids try the sons of men. 5 The Lord tries the righteous and the ungodly: and he that loves unrighteousness hates his own soul. 6 He shall rain upon sinners snares, fire, and brimstone, and a stormy blast [shall be] the portion of their cup. 7 For the Lord [is] righteous, and loves righteousness; his face beholds uprightness.
&nbsp:
Ten Commandments Heritage Advertising
Heritage Advertising, Inc.
4100 Bob Wallace Avenue SW
Huntsville, AL 35805
256-523-6425
Email: