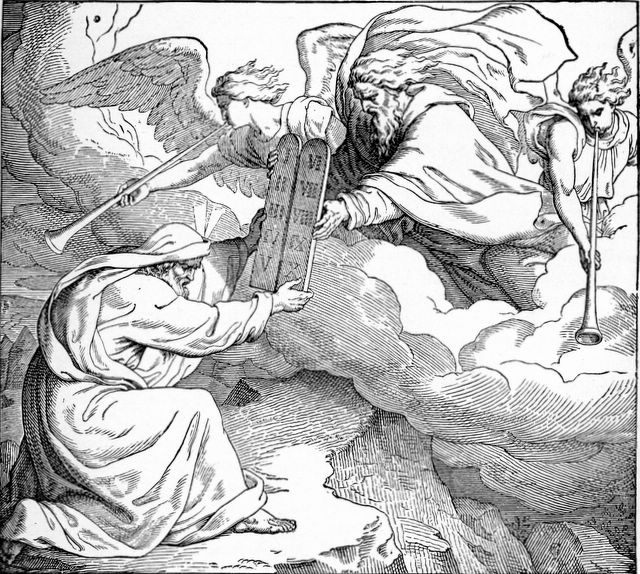 Christian 10 Commandments

Below are links to great Christian 10 Commmandments web sites. If you would like to have your site listed please e-mail us.
If you wish to link to us through your site please click here.

10 Commandments of Jesus and Related Sites

The Foundation for Moral Law Judge Roy Moore's official website.

Psalm 15

1 Lord, who shall abide in thy tabernacle? who shall dwell in thy holy hill?

2 He that walketh uprightly, and worketh righteousness, and speaketh the truth in his heart.

3 He that backbiteth not with his tongue, nor doeth evil to his neighbour, nor taketh up a reproach against his neighbour.

4 In whose eyes a vile person is contemned; but he honoureth them that fear the LORD. He that sweareth to his own hurt, and changeth not.

5 He that putteth not out his money to usury, nor taketh reward against the innocent. He that doeth these things shall never be moved.

The 10 Commandments Numerous 10 Commandments Products

Exodus XX Stuff Ultimate List of Ten Commandments Web Sites. All kinds of Ten Commandments products.

Many great Bible studies can be found at Ten Commandments.

What Does the Bible Say about the Moral Law?

Why Display the Ten Commandments from the Bible?

Tee Shirts Printing VBS and Church T-Shirts Also custom made T-shirts for church youth groups.

God's Ten Commandments Bible Study

10 Commandments Copy of 10 Commandments - Latest News

Good Health is promised to those who keep the Commands

Exodus 15:26
And said, If thou wilt diligently hearken to the voice of the LORD thy God, and wilt do that which is right in his sight, and wilt give ear to his commandments, and keep all his statutes, I will put none of these diseases upon thee, which I have brought upon the Egyptians: for I am the LORD that healeth thee. Moses and the Ten Commandments Ten Commands of the Moses Ministry, and posters, and yard signs

http://fieldsofthewoodbiblepark.com/10comman.htm Christian Family Park

The Ten Commandments Tem Comandments in the Bible info

World's Largest Ten Commandments

Murphy, North Carolina

It's not that God doesn't care -- he's just really busy. He certainly can't spare time to examine and approve every religious tribute, grotto, and sacred tourist attraction erected by humanity to honor His glory. The Church of God of Prophecy knew this full well when they built Fields of the Wood in 1945. Its centerpiece is the World's Largest Ten Commandments, a 300-ft wide tableaux occupying a mountainside. Though it is tucked into the extreme and obscure western corner of North Carolina, the immense tablets are visible from orbit ... and heaven.* This surprising spectacle borders a TVA-protected lake resort area, twenty miles or so from the mountainous region in Tennessee where the 1996 Atlanta Olympics hosted whitewater races. Heading east from TN, with four miles to go, a hand-painted billboard promises we will "See Gigangic Ten Commandments." After passing through a white archway emblazoned "Fields of the Wood," we are greeted by an array of religious landmarks spread down a little valley, with ample parking designed for church service gluts. A welcome center booth displays a map, helpfully charting everything on the property, from Golgotha to an Airplane Warning Beacon. The brochure racks are filled with religious tracts and leaflets. Ten Commandment Mountain Mountain faces Prayer Mountain, where more fit members of the congregation can ascend a long curving stairway to the altar at the top. Along the way, there are 29 important teachings of the Bible explained on headstone-like monuments. Photographers climb here to get any a decent photo of the adjacent Ten Commandments. Over on Ten Commandment Mountain, you can clamber up the 350 steps between the tablets (or just drive up the little service road around back). The five-foot tall letters set in the grassy hillside spell out all ten Laws of God. Pose your parents next to No. IV, your kids next to No. VI, your spouse and/or mistress next to No. VII. At the top, a giant open Bible, called "The World's Largest Testament" supports an observation deck. You can gaze down upon the Baptismal Pool, the Star of Bethlehem, and hedges cut to read: "Jesus Died for Our Sins." The All Nations Cross is also optimized for an angelic vantage point -- a prone display that's 115 feet wide and a 150 feet long. Sprouting on poles from the giant cruciform are flags from every nation where the Church of God is established (or at least has a beachhead). Back at ground level, you can ponder the Golgotha memorial, or discourage children from rolling the circular stone over the entrance to the replica Tomb of Jesus. Fields of the Wood has a decent gift shop selling T-shirts, trinkets, videos, even World's Largest Ten Commandments backscratchers. * [Though let's be honest -- God may still need glasses to see this thing. A proposal: turn the states of Utah and Nevada into cosmic-scaled Commandment tablets, and write the Words in atomic waste. It'll glow at night! Only an idea....]

World's Largest Ten Commandments: Address: Hwy 294, Murphy, NC [Show Map] Directions: In the southwest corner of the state. Part of the Fields Of The Wood complex, which is on Hwy 294, 10 miles northwest of Hwy 64 and about 6 miles east of the TN/NC border. Admission: Free. Hours: Daylight hours. (Call to verify) Phone: 828-494-7855

www.godstenlaws.com The Ten Comandments of Jesus are Laws with Purpose, copy of them.

1 Kings 14:22, 24
And Judah did evil in the sight of the LORD, and they provoked him to jealousy with their sins which they had committed, above all that their fathers had done.

And there were also sodomites in the land: and they did according to all the abominations of the nations which the LORD cast out before the children of Israel.

10 Commnamdments Movie, Yul Brynner, Brenner Val Kilmer and Charlton Heston
Charlton Heston Ten Commandments 1956 Movie

God's Ten Commandments, List of, Law of God
10 Commandments of Jesus.
Read the Commandments of Jesus: Deuteronomy 4:13
And he declared unto you his covenant, which he commanded you to perform, even ten commandments; and he wrote them upon two tables of stone. Exodus 15:26
And said, If thou wilt diligently hearken to the voice of the LORD thy God, and wilt do that which is right in his sight, and wilt give ear to his commandments, and keep all his statutes, I will put none of these diseases upon thee, which I have brought upon the Egyptians: for I am the LORD that healeth thee.
Exodus 16:28
And the LORD said unto Moses, How long refuse ye to keep my commandments and my laws?


Christian 10 Commandments Music, Muscial

Teach Children Ten Commandments, Memorize Child, copy of

Deuteronomy 5:10
And shewing mercy unto thousands of them that love me and keep my commandments.

Deuteronomy 5:29
O that there were such an heart in them, that they would fear me, and keep all my commandments always, that it might be well with them, and with their children for ever!

Genesis 26:5
Because that Abraham obeyed my voice, and kept my charge, my commandments, my statutes, and my laws.
The Covenant

1 Chronicles 16:15-17
15 Be ye mindful always of his covenant; the word which he commanded to a thousand generations;
16 Even of the covenant which he made with Abraham, and of his oath unto Isaac;
17 And hath confirmed the same to Jacob for a law, and to Israel for an everlasting covenant,

Deuteronomy 7:9
Know therefore that the LORD thy God, he is God, the faithful God, which keepeth covenant and mercy with them that love him and keep his commandments to a thousand generations;

Ten Commandments of Moses - Copy

Exodus 34:28
28 And he was there with the LORD forty days and forty nights; he did neither eat bread, nor drink water. And he wrote upon the tables the words of the covenant, the ten commandments.

Deuteronomy 9:9
9 When I was gone up into the mount to receive the tables of stone, even the tables of the covenant which the LORD made with you, then I abode in the mount forty days and forty nights, I neither did eat bread nor drink water:

The "Frontlets between thine eyes - The Moral Law Command from Deuteronomy 6"

The King James Version reads thusly in: Exodus 13:16 "And it shall be for a token upon thine hand, and for frontlets between thine eyes: for by strength of hand the LORD brought us forth out of Egypt." The Masoretic Hebrew word translated "frontlets" is Strong's #H2903, transliterated "towphaphah." The definition given reads: "from an unusued root meaning to go around or bind; a fillet for the forehead:--frontlet." It is translated consistently in Deuteronomy 6:8, and 11:18.

However, turning to a superior version of the Old Covenant scriptures, the Septuagint(LXX), gives us much more information on the word. In the Septuagint, Exodus 13:16(LXX) reads: "And it shall be for a sign upon your hand, and unshaken before your eyes. For by a fortified hand the Lord led you out of Egypt."

The word translated "unshaken" corresponds to "frontlets," in the Masoretic. It is Strong's #761, transliterated asaleutos. The Lexical definition in the Apostolic Bible Polyglot reads: "Unshaken, unagitated." The other two occurrences of asaleutos in the Old Covenant read:

Deuteronmy 6:8 (LXX) "And you shall affix them for a sign upon your hand, and it shall be unshaken before your eyes."

Deuteronomy 11:18 (LXX) "And you shall put these words into your heart, and into your soul, and you shall affix them for a sign upon your hand, and it shall be unshaken before your eyes."

Asaleutos is also found twice in the New Covenant Scriptures, in Acts 27:41, and Hebrews 12:28. The King James translates asaleutos as "unmoveable," and "cannot be moved."

Acts 27:41 "And falling into a place where two seas met, they ran the ship aground; and the forepart stuck fast, and remained unmoveable, but the hinder part was broken with the violence of the waves."

Hebrews 12:28 "Wherefore we receiving a kingdom which cannot be moved, let us have grace, whereby we may serve God acceptably with reverence and godly fear:"

Understanding the true meaning of frontlets, as unshaken, or umoveable, dispels the Jewish fables we are warned about. It is not a box to put the law into and tie to your forehead.

Titus 1:14 "Not giving heed to Jewish fables, and commandments of men, that turn from the truth."

Clearly our minds are to be fixed on the law and the covenants, Just as David expressed countless times in the Psalms.

Psalm 119:97-98(LXX) "How I loved your law, O lord; it is my meditation the entire day. Above my enemies you made me wiser by your commandment; for into the age it is to me."

Before the U.S. Constitution was written, what was the government in the United States? It was the Articles of Confederation, ratified by the States this day, March 1, 1781. Signed by such statesmen as Ben Franklin and Roger Sherman, it was an attempt to loosely knit the thirteen States together.

The Articles of Confederation declared: "Whereas the delegates of the United States of America in Congress assembled did on the fifteenth day of November in the Year of Our Lord 1777, and in the second year of the independence of America agree on certain Articles of Confederation and perpetual union between the States...

The said states hereby severally enter into a firm league of friendship with each other, for their common defense, the security of their liberties, and their mutual and general welfare, binding themselves to assist each other, against all force offered to, or attacks made upon them, or any of them, on account of religion, sovereignty, trade, or any other pretense...

And whereas it has pleased the Great Governor of the World to incline the hearts of the Legislatures we respectively represent in Congress, to approve of, and to authorize us to ratify the said Articles of Confederation." ____ Endnotes at www.AmericanMinute.com






Ten Commandments Heritage Advertising
Heritage Advertising, Inc.
4100 Bob Wallace Avenue SW
Huntsville, AL 35805
256-523-6425
Email: