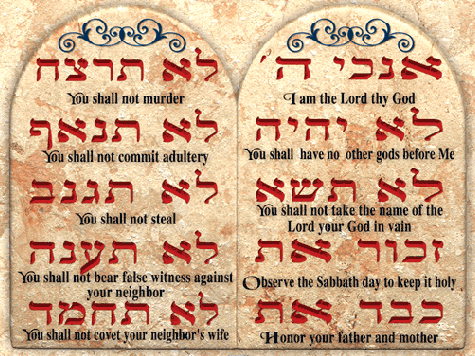 Jewish Ten Commandments
Yet, as we approach Shavuot, the Jewish holiday that commemorates the handing-down of the list of Ten Commandments at Mount Sinai, just because there's a debate about the public appropriateness of displaying the Decaolgue list for children.  It doesn't mean you can't surround yourself with them at shul - or even in your front yard.

And he gave to Moses, when he had finished speaking with him on Mount Sinai, the two tablets of the testimony, tablets of stone, written with the finger of God. - Ex. 31:18

The Decalogue are a special set of spiritual imperatives (laws) that the LORD Himself wrote on two stone tablets (luchot) that Moses brought down from Mount Sinai (Ex. 31:18).  These were given to the Children of Israel, and some people refer to them as the Jewish Ten Commandments.

In the Scriptures these laws are called the aseret hadevarim, the "ten words" or "ten utterances" (see Ex. 34:28, Deut. 4:13 and Deut. 10:4). In rabbinical writings, they are usually referred to as Aseret haDiberot, and in Christian theological writings they are called the Decalogue (from the Greek words deca [10] and logoi [words]).

The Ten Commandments of the Jews for Children
You shall have no other gods but me

You shall not take the name of your Lord in vain

You shall remember and keep the Sabbath day holy

Honor your father and mother

You shall not murder

You shall not commit adultery

You shall not steal

You shall not bear false witness against your neighbor

You shall not covet your neighbor's goods.

You shall not covet your neighbour's house.
You shall not covet your neighbor's wife, nor his manservant, nor his maidservant, nor his bull, nor his donkey, nor anything that is your neighbour's."