Home
Why Display the
Bible Ten
Commandments?
The Ten Commandments of the Bible?
Ten Commandment Bumper Stickers
Links Christian Ten Commandments Listed
We make yard signs of all types
Citizens Against Drunk Driving
Christian Discount Long Distance Phone Service
The 10 Commandments News
Visit this site for excellent national news coverage of the Biblical 10 Commandments of Moses.

The Ten Commandments of the Bible Displayed as Yard Signs
Ten Commandments yard signs, a symbol of Christians holding up the banner of light.

"In the name of our God we will set up our banners." Psalm 20:5

"And thou shalt write them upon the posts of thy house, and on thy gates." Deuteronomy 6:9.

Moses told us to post the Ten Commandments of the Bible in our homes and in public places. Our forefathers obeyed and posted the Ten Commandments in over 4,000 public places in America, more than any other scripture verses.
The U.S. Supreme Court and the Biblical Ten Commandments
The very Christian historical foundation of America is at stake. If we lose this battle, Ten Commandment Monuments of Moses and Christian historical symbols could be removed from thousands of public places in every city in America. Click here for information on legal issues. Also on this page are several pictures of the Biblical Ten Commandments in the Supreme Court Building and in Washington, D.C. Bible Ten Commandments of Moses

Reward for keeping Biblical Ten Commandments

Deuteronomy 6:2-3


2

That thou mightest fear the LORD thy God, to keep all his statutes and his commandments, which I command thee, thou, and thy son, and thy son's son, all the days of thy life; and that thy days may be prolonged.


3

Hear therefore, O Israel, and observe to do it; that it may be well with thee, and that ye may increase mightily, as the LORD God of thy fathers hath promised thee, in the land that floweth with milk and honey.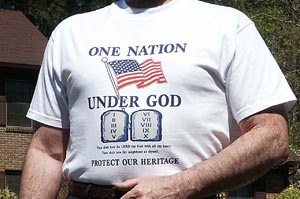 Ten C. Christian T-Shirts Christian T-shirts
Requirement to teach children.
Deuteronomy 6:7
7 And thou shalt teach them diligently unto thy children, and shalt talk of them when thou sittest in thine house, and when thou walkest by the way, and when thou liest down, and when thou risest up.

Requirement to display in homes.
Deuteronomy 6:9
9 And thou shalt write them upon the posts of thy house, and on thy gates.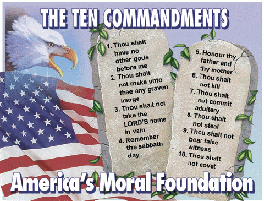 Ten Commandments
To order yard signs, Ten Commandments of Moses.

Revelation 12:17
And the dragon was wroth with the woman, and went to make war with the remnant of her seed, which keep the commandments of God, and have the testimony of Jesus Christ.

Revelation 14:12
Here is the patience of the saints: here are they that keep the commandments of God, and the faith of Jesus.
The Ten Commandments of the Bible - The Covenant is Everlasting
1 Chronicles 16
15 Be ye mindful always of his covenant; the word which he commanded to a thousand generations;
16 Even of the covenant which he made with Abraham, and of his oath unto Isaac;
17 And hath confirmed the same to Jacob for a law, and to Israel for an everlasting covenant,
Deuteronomy 7:9 Know therefore that the LORD thy God, he is God, the faithful God, which keepeth covenant and mercy with them that love him and keep his commandments to a thousand generations;
Ten Commandments Covenant
Exodus 34:28
28 And he was there with the LORD forty days and forty nights; he did neither eat bread, nor drink water. And he wrote upon the tables the words of the covenant, the ten commandments.

Exodus 20:6
And shewing mercy unto thousands of them that love me, and keep my commandments.

Exodus 24:12
And the LORD said unto Moses, Come up to me into the mount, and be there: and I will give thee tables of stone, and a law, and commandments which I have written; that thou mayest teach them.

Leviticus 5:17
And if a soul sin, and commit any of these things which are forbidden to be done by the commandments of the LORD; though he wist it not, yet is he guilty, and shall bear his iniquity.

Leviticus 22:31
Therefore shall ye keep my commandments, and do them: I am the LORD.
.
Biblical Ten Commandments bring you Christian history:
August 15, 1534: Ignatius of Loyola founds "the company of Jesus," which he described as similar to a group of fur traders, only focused on God's will. In 1540 they gained the approval of the pope, who named them the Society of Jesus. The vision and disciplines of the "Jesuits," as they came to be called, caught the imagination of Europe. Soon Jesuits flocked to Europe's major cities as well as the new world: Gao, Mexico City, Quebec, Buenos Aires, and Bogota. They opened hospices for the dying, sought financial support for the poor, founded orphanages, and opened schools.
August 15, 1549: Spanish Jesuits led by Francis Xavier become the first Christian missionaries in Japan. Xavier went to Japan hoping to eventually reach China. He figured once he evangelized China, Japan's conversion would be much easier because, he believed, Japan looked to China for wisdom.

August 15, 1846: Addressing rumors that he mocked Christianity, Abraham Lincoln publishes a broadside on his religion: "That I am not a member of any Christian Church, is true; but I have never denied the truth of the Scriptures; and I have never spoken with intentional disrespect of religion in general, or of any denomination of Christians in particular . . . ".




Jesus Saves Ministry
1271 Eastland Rd
Sparta, TN 38583
Telephone: 931-935-2110 or 1-877-210-5266
Email: