Home
The Ten
Commandments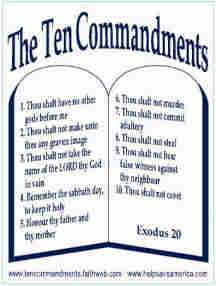 Commandments
History of the Ten Commandments
God's covenant was a promise that His people accepted in faith believing God would do what He said. In turn, the people promised God complete devotion and dedication to Him.

God established a spoken and written (Ten Commandments) set of obligations and responsibilities the people must obey in order to demonstrate their devotion to God and separation from sin. It was through these laws that Israel could learn the character of God and the dangers of sin.
God's chose Israel to be the messengers of God's love for all mankind through His covenant. The Ten Commandments were a key element of the covenant God made with Israel.

The Ten Commandments (also called the Decalogue) were given to Moses, the great leader of the Hebrews, over 3,000 years ago after the Hebrews were delivered from slavery in Egypt. While the Law of Moses is made up of over 600 rules, the Ten Commandments were a succinct list of rules from which the others were developed. They are recorded in two chapters of the Hebrew Scriptures (specifically the Pentateuch): Exodus 20 and Deuteronomy 5.
When Jesus was asked, "What must I do to inherit eternal life?", he replied: "You know the Commandments, keep these and you will live." For now, just notice that Jesus attests to the importance of the Ten Commandments. This is why Christians still accept them.

Ten Commandments window decals are available! You can put these on the windows of your car to show your support of the Ten Commandments. Also popular to put on your storm door. Stick from inside window. The Ten Commandments are displayed as above on a transparent background. These are remove able stickers.

Cost of decals, including shipping and handling:
1 = $1.00
4 = $3.00
12 = $5.00
30 = $10.00
70 = $20.00

To get your God"s 10 Commandments window decals, write to the address below, or call 941-451-4113, or send us an e-mail. We appreciate your donations to help us continue supporting the Ten Commandments.
Ten Commandments List
Click below for a list of the Ten Commandments. Jesus said, If ye love me keep my commandments.
Large selection of Wholesale Ten Commandments Products -Magnets and Car Tags and more-- Click here!

10 Commandments
Ten Commandments Stone Tablets Click Here- Great Gift





Ten Commandments Heritage Advertising
Heritage Advertising, Inc.
4100 Bob Wallace Avenue SW
Huntsville, AL 35805
256-523-6425

Email:

Council of Chalcedon
At this council held in 451 AD, leaders of the Church affirmed the basics of our Christian faith, including the Trinity. A creed was written. Today, many associate Chalcedon with those who follow the word of God, the complete Old and New Testaments, and the following of the moral law.
The Chalcedon Council
Teach Children Ten Commandments Ten Commandments Children
Deuteronomy 7:9
Know therefore that the LORD thy God, he is God, the faithful God, which keepeth covenant and mercy with them that love him and keep his commandments to a thousand generations;

Note the above verse states that we are to keep his covenant and commands to a thousand generations. That is literally 20,000 years. According to Moses, they apply still today.
Acts 27:41
"And falling into a place where two seas met, they ran the ship aground; and the forepart stuck fast, and remained unmoveable, but the hinder part was broken with the violence of the waves."
Hebrews 12:28
"Wherefore we receiving a kingdom which cannot be moved, let us have grace, whereby we may serve God acceptably with reverence and godly fear:"
Psalm 14

1 The fool has said in his heart, There is no God. They have corrupted [themselves], and become abominable in their devices; there is none that does goodness, there is not even so much as one. 2 The Lord looked down from heaven upon the sons of men, to see if there were any that understood, or sought after god. 3 They are all gone out of the way, they are together become good for nothing, there is none that does good, no not one. Their throat is an open sepulchre; with their tongues they have used deceit; the poison of asps is under their lips: whose mouth is full of cursing and bitterness; their feet are swift to shed blood: destruction and misery are in their ways; and the way of peace they have not known: there is no fear of God before their eyes. 4 Will not all the workers of iniquity know, who eat up my people as they would eat bread? they have not called upon the Lord. 5 There were they alarmed with fear, where there was no fear; for God is in the righteous generation. 6 Ye have shamed the counsel of the poor, because the Lord is his hope. 7 Who will bring the salvation of Israel out of Sion? when the Lord brings back the captivity of his people, let Jacob exult, and Israel be glad.