Home
Charlton Heston and the Ten Commandments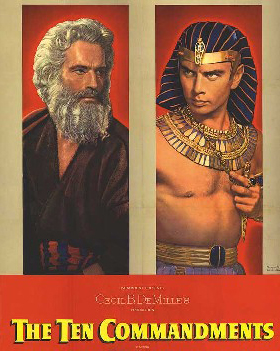 Charlton Heston
The Ten Commandments Movie, starring Charlton Heston, Cecil Demille, Yul Brennyer. This drama is a profound Bible Epic which describes the story of Moses from his birth to his profound leadership in leading the Children of Israel out of Egypt. The movie won Oscars and profound special effects at the parting of the Red Sea. The movies was a smashing success at the box office and is still a popular movie today. The success may be due to the following of 2 directives of the Bible. In Deuteronomy Chapter 4, special direction is given to teach our sons and our sons' sons. "Specially the day thou stood before the Lord thy God in Horeb', "and the mountain burned with fire", "and he declared unto you his covenant, which he commanded you to perform, even the 10 commandments, and he wrote them upon two tables of stone". From Deuteronomy 4: 9-13. Also in Deuteronomy 6:9 the Ten Commandments are the only verses of scripture commanded to be posted in our homes and in public places (gates). "And thous shalt write them upon the posts of thy house, and on thy gates." The importance of these two directives may be a factor in the interest and the record numbers of people who saw this movie.
When casting the role of Moses, Charlton Heston was chosen as Moses because of of his striking Physical resemblance to Michelangelo's sculpture of Moses. His strong and handsome facial features seemed to fit that of a prince.
Cecil DeMille gave the role of Rameses as he thought that Yul Brynner personally reflected a stubborn, handsome, arrogant, and heir to the Egyptian throne. This was demonstrated in Rodgers & Hammerstein's THE KING AND I.
The Ten Commandments Movie
This drama is a specular Bible Epic which describes the story of Moses from his birth to his profound leadership in leading the Children of Israel out of Egypt. Charleston (Charlton) Heston stars as Moses in this 1956 movie. The movie is profound. Read more (Click Here) Ten Commandments Movie

What is the great commandment of the Bible Law?
Deuteronomy 6:5

Jesus Teaches us the Great Commandment (Love) is the summary of the Law 5:
And thou shalt love the LORD thy God with all thine heart, and with all thy soul, and with all thy might.

Matthew 22:36-38
35 Then one of them, which was a lawyer, asked him a question, tempting him, and saying,
36 Master, which is the great commandment in the law?
37 Jesus said unto him, Thou shalt love the Lord thy God with all thy heart, and with all thy soul, and with all thy mind.
38 This is the first and great commandment.
39 And the second is like unto it, Thou shalt love thy neighbour as thyself.
40 On these two commandments hang all the law and the prophets.

Ten Commandments of Stone Monuments

Deuteronomy 7:9
Know therefore that the LORD thy God, he is God, the faithful God, which keepeth covenant and mercy with them that love him and keep his commandments to a thousand generations;

Law of Moses This is a Biblical perspective, a life project to learn and apply them. Biblical Ten Commandments

Deuteronomy 7:11
Thou shalt therefore keep the commandments, and the statutes, and the judgments, which I command thee this day, to do them.

Deuteronomy 8:1
All the commandments which I command thee this day shall ye observe to do, that ye may live, and multiply, and go in and possess the land which the LORD sware unto your fathers.

John 15:10
If ye keep my commandments, ye shall abide in my love; even as I have kept my Father's commandments, and abide in his love.

1 Corinthians 7:19
Circumcision is nothing, and uncircumcision is nothing, but the keeping of the commandments of God.

Council of Chalcedon
At this council held in 451 AD, leaders of the Church affirmed the basics of our Christian faith, including the Trinity. A creed was written. Today, many associate Chalcedon with those who follow the word of God, the complete Old and New Testaments, and the following of the moral law. Chalcedon

The Project Moses, is simply the Biblical requirement to obey and display them as he told us in Deuteronomy. Project Moses





Ten Commandments Heritage Advertising
Heritage Advertising, Inc.
4100 Bob Wallace Avenue SW
Huntsville, AL 35805
256-523-6425
Email: