Home
Why Display
the 10
Commandments?
What Does the Bible Say about the Ten Commandments?
Customize Your Signs or Shirts
The politically correct are at it again. They are removing our traditions right before our very eyes and have waged a war on Christmas. The folks at www.KeepChristmasAlive.org are trying to bring back the traditions of the past. Read the poem, the Keep Christ poem below.
Keep Christ In Christmas Signs
Send them a message. Help your neighbors to understand the importance the traditions of the past. In our front lawn, install a Christmas yard sign. You will be surprised how economical it is to send a message and educate your entire neighborhood. Click on either of the above links to find out more on how to keep Christ in Christmas.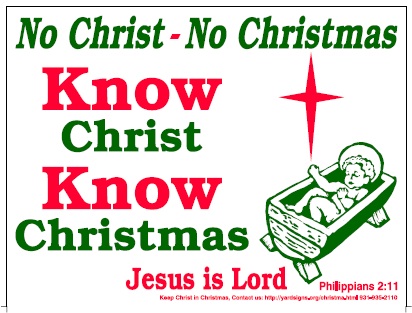 Keep Christ in Christmas
Christmas Yard Signs - ONLY $5.00 Each
Regardless of the quantity - Our Christmas Signs are only $5.00 Each and low as $2.00 each. Free Wire Stand included in these prices.


Quantity

Cost Each

Shipping Cost

Total Cost
Signs and Shipping
Add 10% Pacific for Shipping

1

5.00

9.95

14.95

2

4.50

9.95

18.95

5

4.00

13.95

32.70

10

3.00

15.95

45.95

15

2.75

19.95

61.20

25

Call

Call

Call

50

Call

Call

Call

100

Call

Call

Call
The signs are mass produced and are intended to make the cost low to encourage a massive distribution to send them a message. As you can see, in some quantities, we are charging less for shipping than actual costs. Buy 100 signs, and we completely absorb the shipping costs. Request those in the Pacific Time zone help us some with additional shipping costs. For those in Alaska, Hawaii, or Canada, please contact us for shipping cost. The more signs purchased, the cost per sign greatly lowered. See below.

Christmas Signs
If you check prices, you will see that these are about half price of many others selling similar signs. We want to mass produce and make these affordable to all who want them. Christmas Yard Signs, cheap
Keep Christ in Christmas Yard Signs
To have your unique Keep Christ in Christmas Yard Signs go to the yard signs printer. Yard Signs election political To have your uniquely designed Christmas Yard Signs printed, Click Here
Is Christmas a Christian Holiday
Alabama was the first state to make Christmas a holiday in 1836. It was many years later before Christmas became a federal holiday.

In which one of the following years did Congress declare Christmas to be a legal public holiday?
a. 1856
b. 1870
c. 1890
d. 1912

Answer b.
it was approved under a Republican Reconstruction Congress.
Christmas in Early America
Christmas was not celebrated, but was suppressed in early America.
Puritans heaped contempt on Christmas and suppressed it. First, no holy days except the Sabbath were sanctioned in Scripture, second, the most egregious behaviors were exercised in its celebration (Puritan Leader Cotton Mather railed against these behaviors), and third, December 25 was ahistorical.
The Puritan argued that the selection of the date was an early Christian hijacking of a Roman festival, and to celebrate a December Christmas was to defile oneself by paying homage to a pagan custom, and it was considered to be a Catholic holiday, another reason that the Puritans made celebration of Christmas illegal.
James Howard Barnett notes in book, The American Christmas, that the Puritan view prevailed in New England for almost two centuries. The Plymouth Pilgrims put their loathing for the day into practice in 1620 when they spent their first Christmas Day in the New World building their first structure in the New World – thus demonstrating their complete contempt for the day. A year later on December 25, 1621, Governor William Bradford led a work detail into the forest.

Below are 10 Commandments web sites with gift items.
10 Commandments Gift Sources
The 10 Commandments Numerous Ten Commandments Gift Products

Stone Commandments are a unique gift that can be mounted on the wall or displayed outside.

The Foundation for Moral Law Judge Roy Moore's official website, with many gift ideas for a donation.

Ten Commandments Georgia Great selection of Gift Products

bumper stickers Have your bumper stickers or bumper magnets custom made with your message.
War on Christmas
Target stores have been demonstrating their distaste for Christians and our traditions. Target has been one of the first to lead the way of political correctness and were one of the first to lead the war on Christmas. Target shows a distaste for Christianity in their open actions of being Gay friendly and have banned the Salvation Army. Target demonstrates that "Christ not in Christmas. Target has a war on Christmas and they also do not respect Thanksgiving. The Target stores do not appear to be concerned with the Ten Commandments of Jesus. BOYCOTT TARGET STORES Target boycott urged for Thanksgiving weekend

Retail giant punished for banning Salvation Army, Merry Christmas
Read the article at: http://www.worldnetdaily.com/news/article.asp?ARTICLE_ID=47459

Target continues to ban Salvation Army

Despite the increased need to help Hurricane Katrina victims Target continues to ban the Salvation Army Bell Ringers. Christian Activist believe that Target is trying to please the homosexual community. Target contributes money to Pro-Homosexual groups, but will not contribute any funds to any Christian groups. The American Family Association is calling the Christian community to stay away from Target.
http://www.worldnetdaily.com/news/article.asp?ARTICLE_ID=47089


Jesus is Lord



Jesus My Lord! What a way to proclaim our lord during this time of year. Consider proclaiming it from your yard. This new sign measuring 18"x24" is made of durable chloroplast, guaranteed to last the outside weather at least three years, planted firmly in the ground by an H-shaped steel wire stand. Jesus My Lord

Clergy extend Target boycott

Encouraged by report company fell short of sales projections
Buoyed by news that Target Corp. failed to meet holiday sales projections, the National Clergy Council is urging church members to continue to boycott the retail chain because it barred Salvation Army bell ringers during the Christmas season. As World Net Daily reported in December, 5,000 Catholic, Evangelical, Orthodox and Protestant clergy members and 30,000 lay delegates in all 50 states called on congregations, organizations, family, friends and associates to suspend holiday shopping at Target stores. The council's president, said he is encouraged by news that Target cut fourth-quarter earnings projections
http://www.worldnetdaily.com/news/article.asp?ARTICLE_ID=42291

Christians may wish to boycott other gay friendly stores like Disney, Home Depot, Kraft Foods, American Girl and Walgreens. Visit the American Family Association for more information, www.afa.net American Family Association Click Here
Keep Christ in Christmas - Bumper Stickers and Magnets
Bumper stickers and bumper magnets have been made to remind people of our American traditions. To view the bumper stickers and bumper magnets, see below. To purchase them, call 931-935-2110. The bumper stickers cost $1.00 each, and the bumper magnets cost $2.00 each. Shipping and handling are $2.95 for each order regardless of the quantity. Contact us for quantity discounts. For "Keep Christmas Alive" bumper stickers, contact us 1-931-935-2110.




Christmas Bumper Stickers
Christmas Bumper Magnets
Click on source above or call 1-931-935-2110

Christmas Poem - Keeping Christ
A Christmas poem, that reminds many of the Christ child

Christmas In His Fingers Poem

With power of love in his fingers , a child is born Stabled ,loved and torn A carpenter to the scorn This King among Kings This Shepard of man With a crown that's made of thorn We washed our hands Yet drank his blood On many a Christmas morn This child of Heavens mood Was sent for all of mankind's good To wash our sins if he could Then start afresh tomorrow Being incumbent to his sorrow We crucified this humble man Who came to us with Heavens plan To heal the sick and embrace the poor And leave our conscience at the door

To find a path that paves the way Where all gods children have a say To live in peace and harmony To love thy neighbor as does he You can see it if you look above The star that outshines all of us , A special star and shinning dove It's shining now with Christmas love
10 Commandments of Jesus
Genesis 26:5
Because that Abraham obeyed my voice, and kept my charge, my commandments, my statutes, and my laws.
Exodus 20:6
And shewing mercy unto thousands of them that love me, and keep my commandments.
Exodus 24:12
And the LORD said unto Moses, Come up to me into the mount, and be there: and I will give thee tables of stone, and a law, and commandments which I have written; that thou mayest teach them.
Leviticus 4:27
And if any one of the common people sin through ignorance, while he doeth somewhat against any of the commandments of the LORD concerning things which ought not to be done, and be guilty;

Ten Commandments of Jesus, List of
What is the greatest commandment of Jesus?
Deuteronomy 6:5


5

And thou shalt love the LORD thy God with all thine heart, and with all thy soul, and with all thy might.

Matthew 22:36-38


35

Then one of them, which was a lawyer, asked him a question, tempting him, and saying,


36

Master, which is the great commandment in the law?


37

Jesus said unto him, Thou shalt love the Lord thy God with all thy heart, and with all thy soul, and with all thy mind.


38

This is the first and great commandment.


39

And the second is like unto it, Thou shalt love thy neighbour as thyself.


40

On these two commandments hang all the law and the prophets.


This is some New Testament information of the list of the Ten Commandments of Jesus.

The Love of God and of neighbor is the summary of the law and prophets.
Mark 12:28-34
28 And one of the scribes came, and having heard them reasoning together, and perceiving that he had answered them well, asked him, Which is the first commandment of all?
29 And Jesus answered him, The first of all the commandments is, Hear, O Israel; The Lord our God is one Lord:
30 And thou shalt love the Lord thy God with all thy heart, and with all thy soul, and with all thy mind, and with all thy strength: this is the first commandment.
31 And the second is like, namely this, Thou shalt love thy neighbour as thyself. There is none other commandment greater than these.
32 And the scribe said unto him, Well, Master, thou hast said the truth: for there is one God; and there is none other but he:
33 And to love him with all the heart, and with all the understanding, and with all the soul, and with all the strength, and to love his neighbour as himself, is more than all whole burnt offerings and sacrifices.
34 And when Jesus saw that he answered discreetly, he said unto him, Thou art not far from the kingdom of God. And no man after that durst ask him any question.

The understanding of love and of the commandments gives one great understanding: "Thou art not far from the kingdom of God."

Can you list the Ten Commandments of Jesus?
Be healthy, obey the Moral Law

Exodus 15:26
And said, If thou wilt diligently hearken to the voice of the LORD thy God, and wilt do that which is right in his sight, and wilt give ear to his commandments, and keep all his statutes, I will put none of these diseases upon thee, which I have brought upon the Egyptians: for I am the LORD that healeth thee.
The Ten Commandments from the Bible
Numbers 15:22
And if ye have erred, and not observed all these commandments, which the LORD hath spoken unto Moses,
Numbers 15:39
And it shall be unto you for a fringe, that ye may look upon it, and remember all the commandments of the LORD, and do them ; and that ye seek not after your own heart and your own eyes, after which ye use to go a whoring:
Numbers 36:13
These are the commandments and the judgments, which the LORD commanded by the hand of Moses unto the children of Israel in the plains of Moab by Jordan near Jericho.
Deuteronomy 4:2
Ye shall not add unto the word which I command you, neither shall ye diminish ought from it, that ye may keep the commandments of the LORD your God which I command you.
Deuteronomy 7:9
Know therefore that the LORD thy God, he is God, the faithful God, which keepeth covenant and mercy with them that love him and keep his commandments to a thousand generations;

Customize Your Signs or Shirts, Christian Ten Commandments of the Bible themes or your own custom unique ideas.

Exodus 24:12
And the LORD said unto Moses, Come up to me into the mount, and be there: and I will give thee tables of stone, and a law, and commandments which I have written; that thou mayest teach them.

American History Moment

On Christmas eve, December 24, 1492, Columbus' ship, the Santa Maria, ran aground on the island of Haiti. Columbus left 40 men there and named the settlement "La Navidad," meaning "The Nativity," promising to return the next year. The same day he wrote in his Journal to the King and Queen of Spain: "In all the world there can be no better or gentler people. Your Highnesses should feel great joy, because presently they will be Christians, and instructed in the good manners of your realms." On December 24, 1946, lighting the National Christmas Tree, President Harry S Truman said: "Our...hopes of future years turn to a little town in the hills of Judea where on a winter's night two thousand years ago the prophecy of Isaiah was fulfilled. Shepherds keeping watch by night over their flock heard the glad tidings of great joy from the angels of the Lord singing, 'Glory to God in the Highest and on Earth, peace, good will toward men.'.. If we will accept it, the star of faith will guide us into the place of peace as it did the shepherds on that day of Christ's birth long ago... Through all the centuries, history has vindicated His teaching. In this great country of ours has been demonstrated the fundamental unity of Christianity and democracy." ___

www.AmericanMinute.com P.O. Box 20163, St. Louis, MO 63123 1-888-USA-WORD

John 15:10
If ye keep my commandments, ye shall abide in my love; even as I have kept my Father's commandments, and abide in his love.

Deuteronomy 10:12-13
12 And now, Israel, what doth the LORD thy God require of thee, but to fear the LORD thy God, to walk in all his ways, and to love him, and to serve the LORD thy God with all thy heart and with all thy soul,

13 To keep the commandments of the LORD, and his statutes, which I command thee this day for thy good?